A New Look for GoProcure...
ATLANTA, Ga. -- GoProcure, a leading provider of tail spend procurement software, today announced the launch of its new brand, characterized by the introduction of a new logo and visual identity. This move signifies the company's growth as a principal partner to organizations seeking to improve tail spend management.
"At GoProcure, we believe technology and people together create magic. Our team is motivated to leverage the best of procurement and FinTech to bring innovative products and solutions to market. This brand relaunch helps showcase all that we can do for clients," says Sandeep Gauba, President & CEO for GoProcure. "We are blazing the trail to deliver state-of-the-art capabilities to the world of procurement, and our vision is to be the go-to platform for any unmanaged spend in the world."
GoProcure's software platform allows anybody in the enterprise to purchase a product or service while adhering to the rigorous standards set by the Finance and Procurement teams. By offering a platform that manages tail spend end-to-end, GoProcure helps customers generate cost savings while improving control, compliance, visibility and efficiency.
The new logo highlights GoProcure's role at the center of a broader purchasing ecosystem, enabling financial institutions, merchants, suppliers, logistics, service providers and other businesses to interact, innovate and transform disorganized purchasing activity into business insights. The new vibrant colors play an equally important role, signifying the pillars of effective execution: innovation, simplicity and capability.
GoProcure's new logo represents GoProcure as a connector for the broader purchasing ecosystem.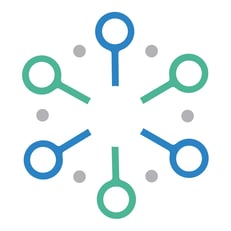 The emphasis on the customer is the essence of the new GoProcure tagline: "All-in-one tail spend solution." GoProcure is the trusted platform for all tail spend management and offers a complete end-to-end product experience for customers, while continuing to elevate expectations with new product development.
"In a short time, we have already demonstrated the viability of our platform and business model with several enterprise organizations., We expect to enhance our solution and broaden our customer base by continuing to grow our ecosystem which includes seamless integrations with our banking partners Wells Fargo, BBVA, and Bank of America, as well as with office products supplier, Staples," says Vijay Vasandani, CTO and Head of Product Development
"GoProcure offers the most compliant and holistic solution for tail-spend purchasing in the market today. By offering a robust policy enforcement engine, mandating pre-approvals of purchase requests and providing spend visibility to management, the GoProcure platform successfully enables organizations to overcome their challenges related to tail spend management," says Raj Verma, Vice President of Procurement Solutions. "We are committed to help organizations extract maximum value from their procurement activities while minimizing risk to generate sustainable ROI."
For more information and to see the full scope of GoProcure's capabilities, please visit www.goprocure.com
About GoProcure
GoProcure is the all in one tail spend solution that provides a B2B e-commerce platform and an ecosystem of partners to deliver a frictionless buying experience to any enterprise with full competition, compliance and control. It enables real time access to over 1 billion competitively priced product SKU's and an RFP engine to order services. Further, using AI and ML, it turns disorganized purchasing activity into business insights.
GoProcure has a strong mission of diversity at its core. The company is an award-winning certified Minority Business Enterprise (MBE) and is committed to the success of small business development. GoProcure partners with a wide range of highly capable and qualified diverse suppliers — including minority-owned, woman-owned, and veteran-owned business enterprises to improve the relevance and sustainability of diversity and inclusion initiatives.
For more information, visit www.goprocure.com and follow us on LinkedIn, Twitter and Facebook.